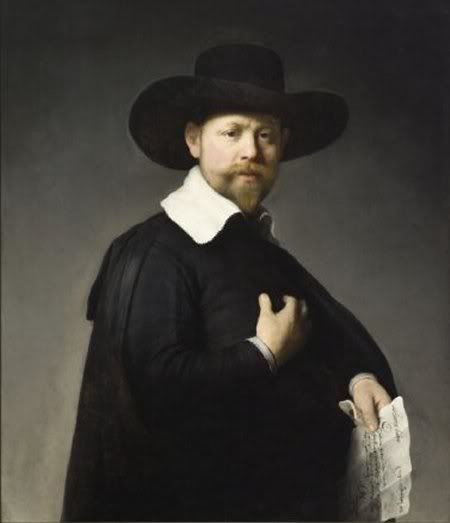 Portrait of Marten Looten

, by Rembrandt, 1632
Letter from Rembrandt to Marten Looten (who is holding the letter, obviously):
Marten Looten
—
XVII, January 1632
"Lonely for me was Amsterdam; your company, friendship just gave me unforgettable peace created from an endless respect." (He signed it "RHL")
In regards to the letter, there were countless theories about it and its significance and meaning. Apparently a Dutch physician had deciphered the words on the letter by a chemical-optical process, the nature of which he steadfastly refused to divulge. The "Marten Looten" and the date are perfectly legible in the painting. The "RHL" of course stands for Rembrandt's actual name, Rembrandt Harmensz Lugdunensis, which is also legible. But the text, four lines in the painting, remains gibberish even under the strongest magnifying glass.