Most often, I spend the night with myself blushing in the shadows and small lights (I try fetching
Bosco Chocolate Syrup
but I am out; addictions are sleepy, sometimes like an adventurous song, but my breathing defiance keeps me company in the robes of my meditation, like some heavenly muse) which, the other night, I wasn't. The flaming sepulchres of "karma" lead me towards other routes on my way to the small town where I was born (the Nostalgia still lingers throughout my soul like an undisputed passage, as if my soul could've been lifted from the Earth (comparitely exhausted from
Divina Commedia
), and several nights ago, partially quieted in the solitude of late night experimentations/observations/film-watchings, &c. in my uncle's room, I was struck by a film that has resonated with me since those nightly-dashings. The "Brilliant, Hypnotic, Startling"
The World's Greatest Sinner.
I knew that I was rightfully in for a treat when I saw the opening scene of weirdness.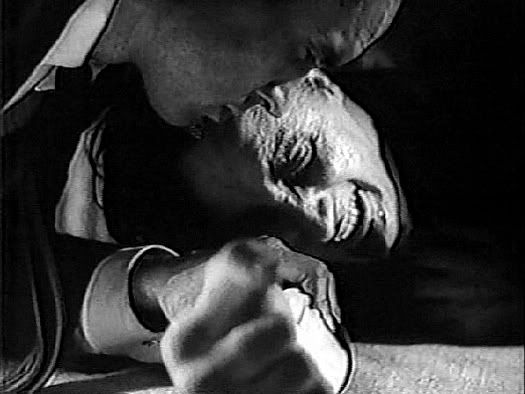 From absolutefilms: (Timothy Carey's) magnum opus,
The World's Greatest
Sinner
, has been called "the best underground movie ever made." Actor-director John Cassavetes said the film had the "emotional brilliance of (Russian pantheon director Sergei Eisenstein)."
"The World's Greatest Sinner is an amazing, love-it-or- hate-it kind of film," says experimental filmmaker Gerry Fialka.
"It's definitely bizarre and in some ways ahead of its time, anticipating the Jim Jones cult many years before it happened. Martha Graham really put it well when she said: The great artists aren't ahead of their time. They are their time! Tim was just reflecting what his times (the late 1950s and early 60s) were all about." The stifling conformity of America in the '50s—the era of the "man in the grey flannel suit"—was giving way to a new, more liberated and permissive society, heavily influenced by the world's first-ever teen culture, with its own music, movies, and values. A rebel himself and no stranger to the Beat Generation, Carey could sense that big societal changes and radical counterculture that would soon shake it's foundations.

It is the story of the mysterious transformation of insurance salesman Clarence Hilliard into a "rockabilly messiah." Clarence quits his job, changes his name to God, and exhorts his followers to become "superhuman beings," working the crowds at his pep rallies into a frenzy! Urged on by a sinister image-maker, God Hilliard parlays his rock stardom into a career in national politics, founding the Superhuman Being Party. His followers wear jet-black uniforms with God's name inscribed on their arm bands. At this point, Sinner becomes a souped-up, low-budget version of All King's Men (1949), a fictionalized account of the rise and fall of Louisiana Governor Huey Long.


Before The Rage of Pricking It With A Needle
attempting to make it bleed (which it eventually does
but much much later that one would expect it to!)
"

Sinner

was
20 years ahead of its time," says Timothy's brother George Carey, associate-producer of the picture and had a bit part as a follower. Timmy showed it in screening rooms to studio heads, trying to get them interested, but the religious aspect upset them. People who could have advanced the film thought the public would condemn it as blasphemous. But
Sinner
does conclude with a miracle, a church scene where Clarence Hilliard begs for forgiveness. He has remorse for the type of person he has become, and seeks redemption. The problem was with the blasphemous stuff that came before. Not too many people could handle that."
"My personal opinion is that
Sinner
is very unusual," Barreto observes. "Nobody else but Tim would have dared to make a movie like that. Very controversial, especially when Tim pierces the host (to make God cry out in pain and reveal Himself).Tim's acting was good, but it was very strange."
I am quite certain that David Lynch saw this film at some point or another before he began making films (or perhaps afterwards -- either way, the influence is obvious). For 1962, as mentioned above, this film was
way
ahead of its time, and reminds me of many other Black Comedies like
The Loved One
and
Dr. Strangelove or

:
How I Learned to Stop Worrying and Love the Bomb
to name a couple, but this has become my all-time favorite "underground film" which reaches astronomical measures in my opinion and reigns above its past and present successors. To endure the blaze of this masterpiece is one thing, but to actually endure it without pains in the stomach (and partially the brain) is something else. I think I now know those distinct contrasts.